Last week the SHOPCONTROLLER was nominated for the OVAM ECO Design Award PRO. For those not familiar with this award: it's given to new products or services on the market that stand out for their innovative and ecological design or benefit. OVAM is the government agency that promotes sustainability, recycling and waste management.
Shopcontroller is an innovative energy management tool for retailers. One integrated smart web application gives the users an overview in real-time of all the details concerning the use of energy or water and the need for maintenance of either one or several shops or the entire branch-network. But that's just the beginning: it's nice to have an overview, but it's essential to be able to interfere and adjust when necessary. The Shopcontroller does just that: no more lights left on or heating and air-conditioning devices running simultaneously. Abnormal use or a leak? Shopcontroller alerts you instantly by e-mail.
And all of this needn't be time-consuming: by analyzing historical data and cross-referencing them with other parameters such as the type of the building or the used materials the Shopcontroller will propose and implement the most energy-efficient mode for that particular shop or building. That means that the temperature will be just right every time of the day and the lights will be switched on or off at just the right time. But there are other advantages as well: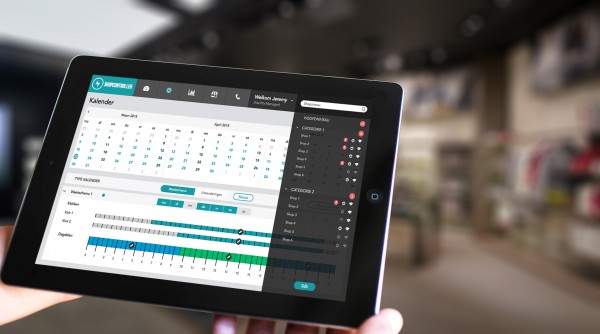 • Save on energy consumption: our customers reduce on average 25% of their combined energy consumption.
• Swift and easy to install: no need for heavy work, the Shopcontroller can be installed in a matter of days. And you could be saving on energy in a matter of days as well. Did you know that the average payback time is 2,1 years?
• Save on maintenance: whenever something is wrong with one of your installations, Shopcontroller will alert you. But you can now skip unnecessary maintenance calls as well. And with the tracked data you'll be in a better position to make informed decisions about how and when to renew them.
• Peace of mind: your employees will be able to focus on what matters: their jobs. And you will too, because you know that Shopcontroller takes care of our energy consumption and your maintenance while saving you money.
• Intuitive design and user experience: in collaboration with the Ghent University and Studio.Dot we've invested a great deal in intuitive design and user experience. The result is an attractive dashboard that's easy to use for everyone.
Do you want to know what Shopcontroller can do for you? Contact me for a free demo or more information: stef@sumibox.eu