One interface for the management of your store technology
Light is crucial in a store. And that's why you need a reliable specialist. Lunoo creates special lighting designs and lighting concepts for the retail sector. By partnering with Shopcontroller, lighting can now be managed in a smart way while integrating it with other systems in your store. Shopcontroller and Lunoo are now working closely together to make it easier for you and your retail staff and offer your customers a unique shopping experience.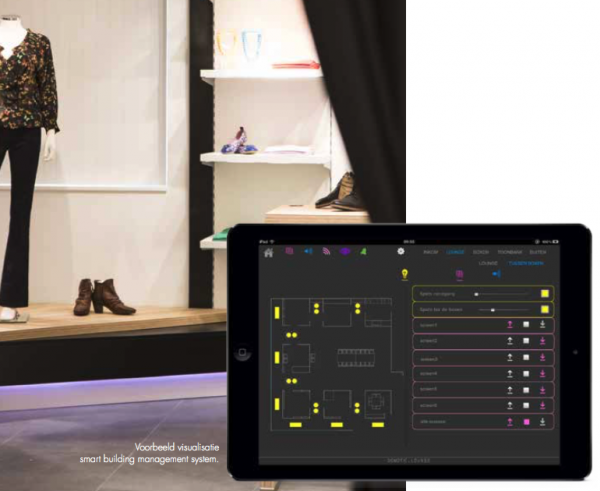 Lighting control
With a smart lighting control system, it is possible to dim lights according to the incident daylight, with a uniform control and RGB controller. We link the lighting to presence detectors and other systems that may affect the light. You immediately have a system capable of detecting defects in time, and you save on maintenance costs.
What is DALI?
– Standard protocol for digital lighting management. Supported by all major lighting manufacturers.
– Ability to control each fixture or group of fixtures.
– Possibility to receive feedback on the status of each lamp and each ballast.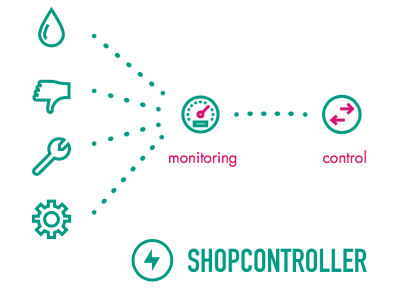 Controlling your store
We can also go one step further. Give one single instruction to dim lights, lower roller shutters and lock doors. You can turn on the heating and lighting to match your store's opening times.
A smart building control system allows you to fully automate your store by linking light controls, ventilation, heating, alarm, sun shading, roller shutters, presence detectors, and much more.
Shopcontroller links your systems on the basis of open standards, irrespective of brands. You manage your building through one web interface, allowing you to view and control everything from a simple dashboard.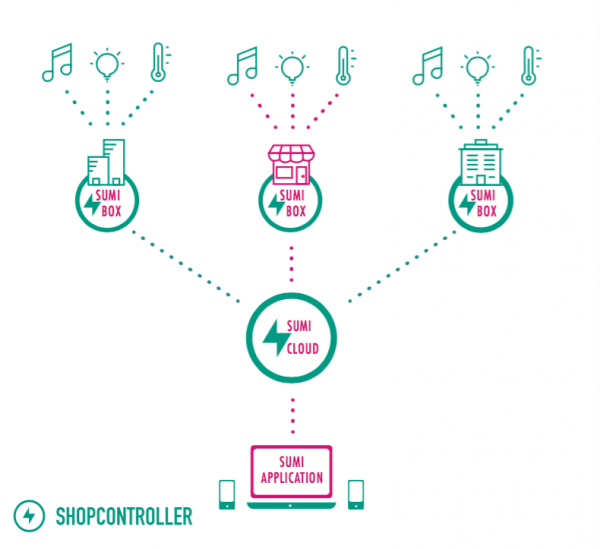 Managing your retail chain
Suppose you have multiple retail outlets. Shouldn't it be easy to create a consistent shopping experience across all stores? You can do that with Shopcontroller. You remotely ensure that audio, heating, lighting, air conditioning and ventilation systems are running properly in unison. A light still burning after hours? A thing of the past.
Shopcontroller is a central facility management system for all stores. Shopcontroller detects and identifies faults, checks them and schedules proactive maintenance. You are notified whenever energy or water consumption is abnormal.
What's in it for you?
– Energy savings: lighting, heating, air conditioning … will be deactivated when prompted and the Shopcontroller will even calculate the best time for switching on and off.
– Maintenance savings: faster detection of abnormal consumption, leaks, malfunctions, etc.
– Greater productivity: at long last, shop managers can do what they are paid to do: run and manage their store.
– Enhanced customer experience: a unified shopping experience across all locations: the same light perception, the same sensations (warmth, safety, fragrance, etc.)
Experience spanning half a century
Together, the lighting company Lunoo and Shopcontroller boast over half a century of experience. Lunoo has been producing lighting designs and lighting concepts for more than 30 years already. Shopcontroller has over 20 years of experience with open standard home automation and smart solutions for building control.
Contact us
We have a forward-looking solution for your (re)lighting project: advice, lighting management and a solution for your building management. Contact product manager Jo Deceuninck for a customized demo session without obligation. jo@shopcontroller.be +32 478 60 13 13